Don't be a fashion faux pas!
Posted by Lindy Lanford on
At The Bridal Cottage we always say that there are no fashion faux pas when you're the bride… however, we do believe that there are fashion faux pas for your bridesmaids and accessories!
As a bride, you don't want it to seem like your bridesmaids are competing with your dress. You want your ladies to compliment YOU! You also want to incorporate accessories that accent your vision well, completing your unique look! Our experienced Consultants have recommendations to go with your bridal gown:
The classic ballgown with full-sparkle bodice:
Pair your bridal gown with a large, elegant necklace and a fingertip-length veil with similar sparkle. Carry a bouquet of romantic red roses and wear allover crystal-adorned heels.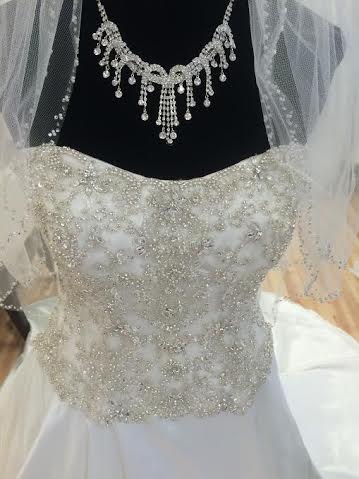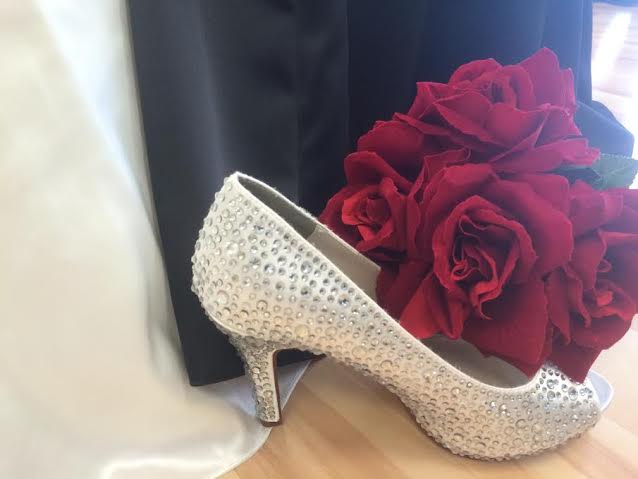 Your bridesmaids will look sleek in satin mermaid dresses with an illusion neckline in black. Consider using a black, white and red color combination. Other combinations that flatter a full-sparkle ballgown look are: royal, red and ivory or plum, navy and grey.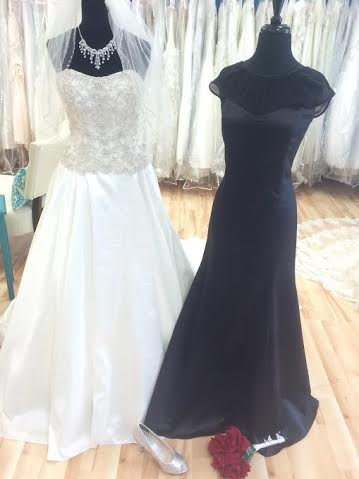 A chiffon sheath bridal gown:
Chiffon sheath bridal gowns are perfect (but not limited to) destination weddings! Keep in mind that your ladies will most likely be warm in long dresses, so we recommend short chiffon! The chiffon will compliment your bridal gown well!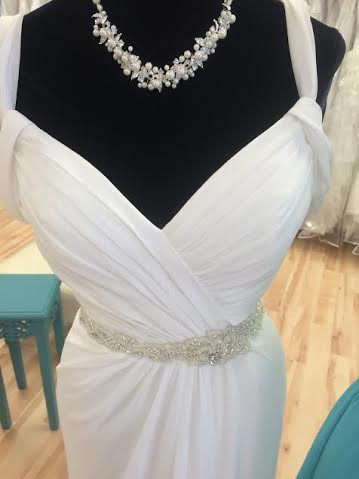 Accent their bridesmaids dresses with a sash matching your bridal gown to create a cohesive look. Opt for no veil (you never know what the wind might do) and accent both your bridal gown and their bridesmaids dresses with large pearl necklaces instead. Bright, colorful flowers are the perfect touch to complete your look!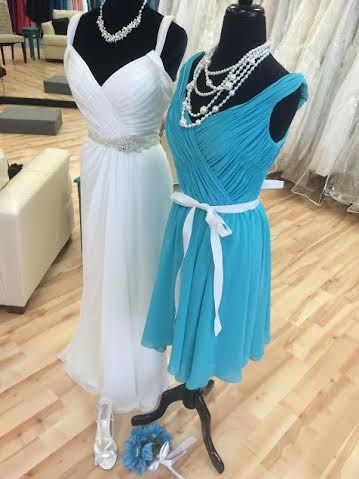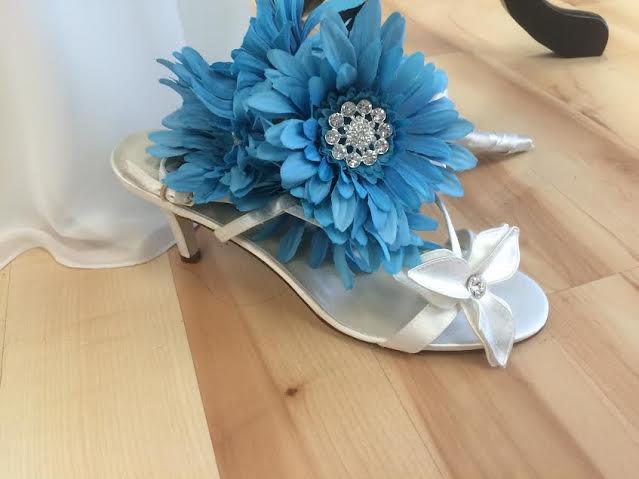 Tulle and lace slim a-line with a hint of color:
Tulle is such a soft fabric and accenting it with a hint of color, like our ivory and peony gown, this gown creates a dreamy feature, perfect for a bride that loves bohemian style.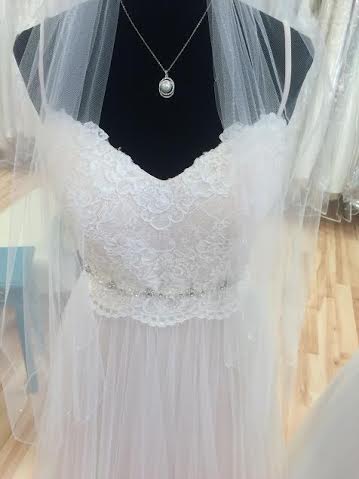 Ivory or blush bridesmaids in long or short chiffon compliment this look well.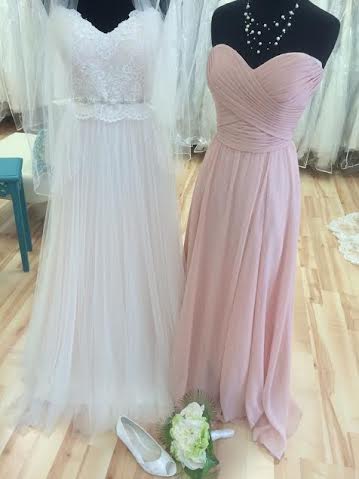 Accent both with dyeable shoes with a small heel and complimenting lace accents and flowers in neutral tones. Hydrangeas in shades of green are perfect for this style!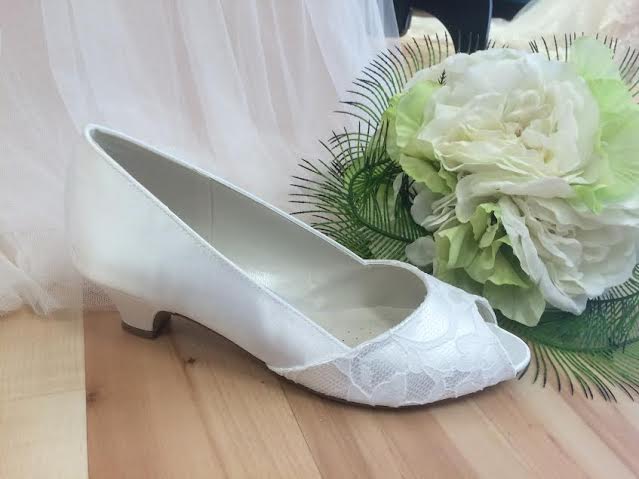 A dramatic mermaid bridal gown:
Are you a glamorous bride? Add fun and flirty bow and sparkle kitten heels and a heavily beaded veil to your look to capture your flair for the dramatics.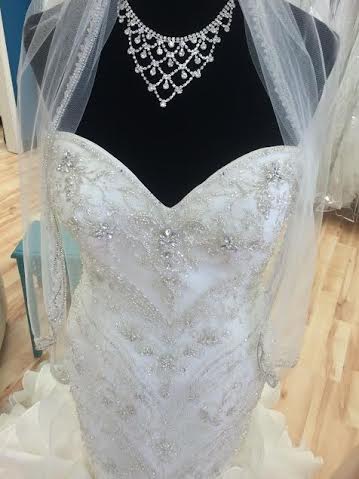 Carry your flashiness into your bridesmaids by dressing them in gold dresses. A hi-low style can be the perfect opportunity for your bridesmaids to show off their sparkle shoes as well!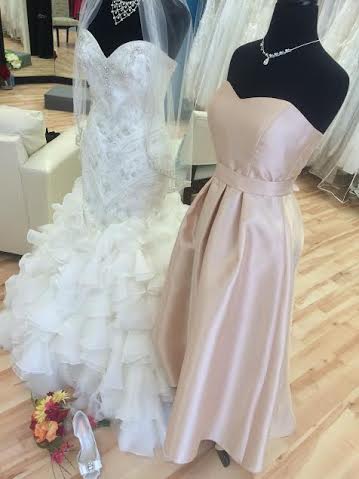 Incorporate flowers in rich, warm colors like bold daisies and alstroemeria. Using other color-combinations like fuchsia, mint and white or grape, silver and ivory cultivate this dramatic and glamourous look as well.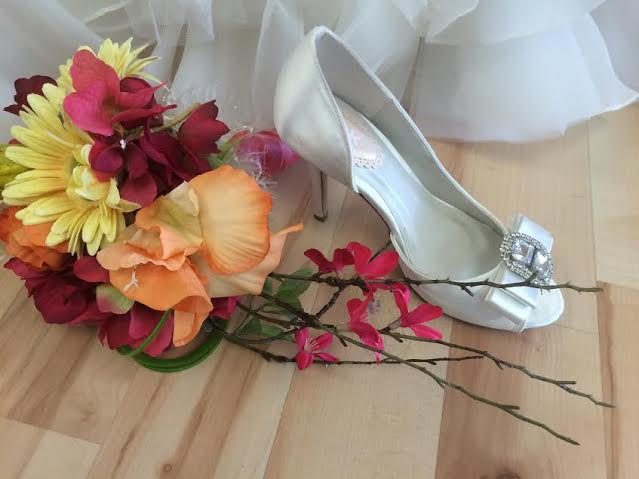 Full-lace with an illusion neckline:
Dressing your bridesmaids in full lace as well to match your dress is very pretty! Consider their dresses in a bright, bold color, like coral allover lace, especially if you plan to use more rustic tones in your wedding palette.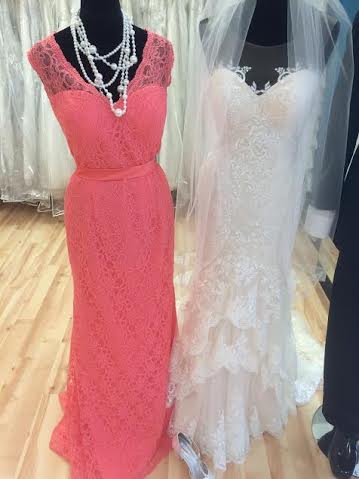 Your bridesmaids will stand out against the canvas that you have created for your wedding. Match yours and their shoes to carry on the complimenting style.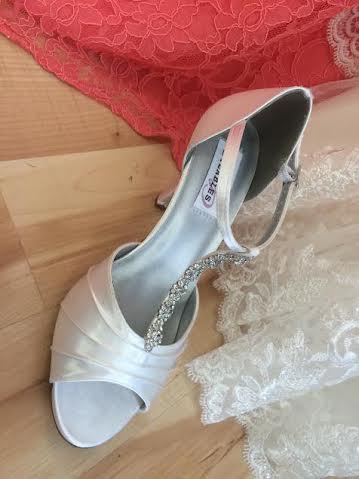 Brides, don't feel limited to only these options! You may cultivate a whole new style that is perfect for you and your wedding! But if you need some guidance, give us a call!  We are happy to help!
---
Share this post
---
---